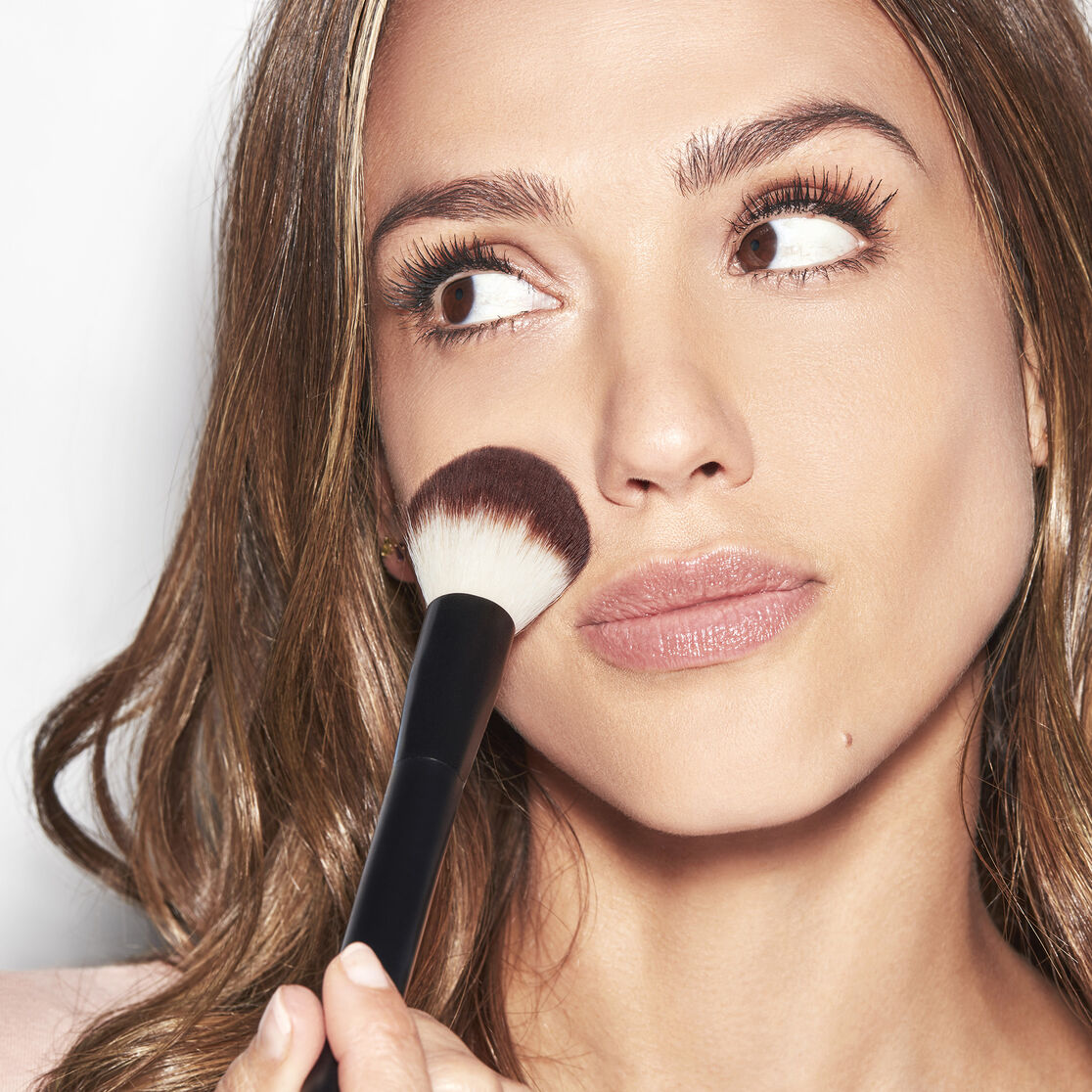 Any makeup artist worth their salt likely has a large selection of makeup brushes, each one designed to achieve something different. It seems as though sometimes there are just as many different types of brushes as there are different types of makeup products!
That can make the whole process of selecting the brushes you actually will use feel somewhat intimidating. The truth is you probably don't need every kind of makeup brush ever made, however, you should have some makeup brushes that are designed to suit your needs stashed in your toolkit. Truth is, there are certain times and certain looks where a great makeup brush is essential.
Below is a short guide on all things makeup brushes, to help steer your decisions! You might not need all of them, but at least you can be informed and know where to start. Also, you'll sound like you know what you're talking about with your gal pals!
Types of Makeup Brushes
Stippling Brush
Stippling brushes are key in achieving a natural finish foundation look with even coverage. This type of foundation brush is a must-have for many makeup artists since they offer the ability to create a foundation coverage that looks as though it's been airbrushed on.
The main feature of a stippling brush is its dual-sized fibers, combining long and short fibers that are tightly packed together. As you begin your makeup application, start with gentle patting motions, pushing the brush into the face––this is what creates the coverage.
Once the foundation is dispersed, you can then use the longer bristles and blend the product––this is what helps create the finished, air-brushed look.
Stippling brushes are best used with cream foundations and also work wonderfully for layering multiple products like foundation, blush, and contouring makeup.
Tapered Foundation Brush
Tapered foundation brushes are flat and medium-sized brushes with slightly tapered edges. These brushes are ideal for applying liquid foundation and help create a beautiful, even coverage for varying foundation finishes.
However, it's imperative to make sure the brush strokes aren't visible and that your foundation is blended well. You can also use these brushes to apply other liquid products like blush, concealer, and highlighting makeup.
One pro tip for using tapered foundation brushes is to wet the brush before use and squeeze all the excess water out with a paper towel––this helps make it even easier to achieve even coverage and ensures no foundation is absorbed by the foundation makeup brush.
Kabuki Brush
Kabuki brushes come with densely packed fibers, making them ideal for use with powders. The dense fibers catch the powder and spread it around the desired area.
Kabuki brushes are often used to apply body shimmers since Kabuki brush heads are typically large in size. They can also be used to apply loose powder to your face to set your makeup look, and also to apply powder foundations and blushes.
Concealer Brush
Concealer brushes are basically tapered foundation brushes, but much smaller. The small size is designed to ensure you can easily get into all the nooks and crannies of your face.
They also work great for spot concealing. As an added benefit, you can even use a concealer brush to clean up a stray liner edge, or lipstick that's smudged around the edges.
Contour Brush / Angled Contour Brush
A contour makeup brush is designed with a tapered edge to help them fit the natural curve of your facial bones. The goal of contouring is to create contrast in your makeup look, bringing attention to features you want to highlight and minimizing areas you don't want the light to catch.
However, it's best to use these angled contour brushes only to map out the contours of your face. Then use a dense blending brush to blend it with the rest of your makeup.
Powder Brush
As the name suggests, powder brushes are used to dust loose powder across your face in a light layer. Powder brushes are thick, with a lot of fibers to catch the powder.
This brush can either have synthetic or natural bristles, and you can choose either per your personal preferences––both perform equally well. Powder brushes are multi-purpose brushes and a must-have in any makeup brush set.
Not only can you use them to apply loose powder, but you can also use them to apply powder foundation, working your way out from the center of your face. Another great way to use a powder brush is as a blush brush for a more diffused and natural blush look.
Fan Brush
Per the name, a fan brush is designed like a fan, with the fibers spread out in a fan shape. Although they are famously known for highlighter applications, the fluffy bristles can be used for other things as well.
Using a fan brush, you can achieve a perfectly blended highlight that looks lit from within. You can also use this brush type to brush away excess pigment from your eyeshadow, or to blend out a blush that is too dark.
Blush / Bronzer Brush
Bronzer and blush brushes are very similar to powder brushes, with much of the same functionality. The only difference is that they are often thicker than powder brushes, while also being smaller in diameter. This is because they're designed to cover the smaller cheek area and not necessarily your whole face.
These brushes are perfect for re-creating natural bronze makeup looks. If you need further help applying your bronzer or blush products, check out our guide on how to apply blush for your face shape.
Blending Brush
A blending brush is a small, fluffy, dense brush that is designed for powder products. Blending brushes can be used to blend eye makeup, merge different shades to achieve an even gradient, or blend out a harsh color for a diffused look. That makes it perfect for smokey eye looks! Depending on its size, you can also use a blending brush to apply highlighter.
Crease Brush
A crease brush is designed with a slight taper to make them multi-purpose. The tapered edge can be used for precision application, whereas the other side can be used for eyeshadow makeup application.
Smudge Brush
Stubby, smudge brushes have a short and densely packed bristle design. The denseness of the bristles ensures it can pick up a lot of pigment and apply a concentrated layer of it to your face.
However, the soft bristles are also ideal for blending out the product, resulting in a smudged look. It's ideal for use along the upper and lower lash line, since it's flatter and wider than other precision brushes. Oftentimes, if you are looking to achieve a smokey eye makeup look, having a smudge brush will help set you up for success!
Flat Eyeshadow Brush
Flat eyeshadow brushes are a perfect tool for applying a base layer on your lids, as well as for applying your desired shade on your lid, with even coverage. The key is to use patting motion when applying to achieve the perfect look.
The flat tip makes application easier, while the rounded tip helps the brush pick up more product for a more concentrated application. You can also use the flat brush to blend out the edges of your eye makeup.
Eyeliner Brush
Eyeliner brushes are arguably one of the biggest must-haves in any makeup tool kit. Even though you can find all kinds of eyeliners nowadays, with marker tips, or brush tips––sometimes only a proper eyeliner brush can do the job.
These multipurpose brushes come with a tapered edge that can be used to control the thickness of the liner. You can also use the eyeliner brush to create a DIY colored eyeliner using your favorite eyeshadow and a setting spray.
Brow Brush
A big fashion trend the past few years has been all about is your brows. To achieve the look of many different trending eyebrow styles, you can't survive without a brow brush.
Most of the time, brow brushes come in a double-edged design, with a spoolie or brush on one end and a tapered thin brush on the other. The spoolie is used first to straighten out your brows, while the brush side is used to add dimension and intensity with your fill product of choice.
Lip Brush
Lip brushes are a perfect tool for the precise application of liquid lipstick. Ever messed up when applying a bright red lipstick? It wouldn't happen if you had a lip brush in your kit!
The thin brush can be used to line your lips first and fill in afterwards. Alternatively, you can use a separate lip liner brush for the first step.
Pencil Brush
Pencil brushes are small, thin, and dense brushes, with tapered edges, that can be used for anything and everything. You can use this brush for spot concealing, as well as to apply concealer to clean up the edges of your eye makeup or lipstick. You can also use it to apply concentrated eyeshadow around the upper and lower lash line.
There are so many different makeup brushes available these days, it can be a challenge to know what you need. We hope this short list has given you a great place to start. Here at Honest, we carry all the best makeup brushes you could need for your everyday makeup routine. So, what are you waiting for? Shop today!
Sources:
Types of Makeup Brushes: The Complete Guide to Makeup Brush Names & Uses. (2021). Colorescience. https://www.colorescience.com/blogs/learn/makeup-brush-types-and-uses
Shunatona, B. (2021, November 4). 21 Types of Makeup Brushes You Actually Need and How to Use Them. Cosmopolitan. https://www.cosmopolitan.com/style-beauty/beauty/how-to/a40310/makeup-brushes-how-to/
We aim to provide you with the most honest and credible information possible. This article was reviewed for accuracy by The Honest Team and was written based on trusted sources that are linked at the bottom of the article.
blog_review_statement