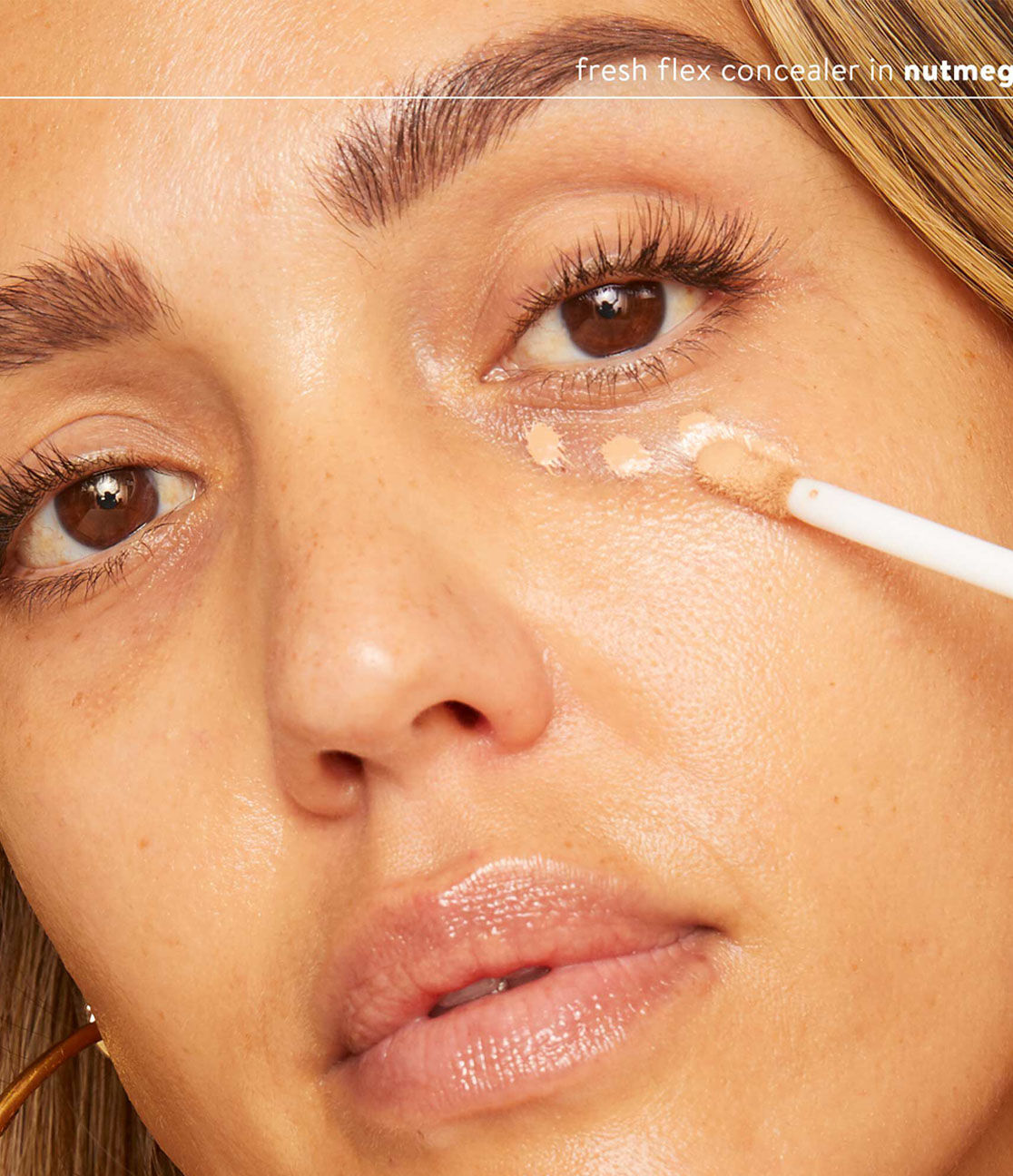 How To Apply Concealer To Amplify Your Features
You've been working hard at your nine-to-five all week, daydreaming about your Friday night plans to go out with your pals. From mentally putting together a show stopping outfit to creating a Pinterest board of the most photo-worthy makeup looks, you're prepared to have an unforgettable weekend.

Fortunately, you don't have to be a professional makeup artist to achieve those photo-worthy looks. You just need the best concealer and the right application techniques.
You may know concealer as the cream or liquid product used to cover pimples, but did you know you can also use concealer to amplify your facial features on a daily basis? In fact, with concealer, you can hide blemishes, brighten your under-eye area, and give your lips a fuller appearance. In this guide, we'll teach you everything you need to know about how to apply ourFresh Flex Concealer so you can add it to your everyday makeup routine.
Applying Concealer to Hide Blemishes
If you've spent time in the mirror fruitlessly dabbing on concealer only to feel as though it's not hiding the pimple that popped up overnight, you're not alone. The issue may be the concealer shade you're using.
Certain colored shades of concealer are able to disguise specific types of blemishes more effectively. Using color correcting concealer is one of the best ways to step up your blemish-hiding game. But how do you know which concealers are for which blemishes?
Check out these pro-tips on how to use concealer as a color corrector below:
For red spots, like pimples, you want to select a concealer shade with a yellow base or tint. The yellow will make the redness less noticeable, and you can follow it up with a layer of cream foundation or tinted moisturizer with SPF to hide the spots entirely.
If you have dark spots on your face, you'll find a lighter shade concealer will give you the most mileage. Opt for one a few shades lighter than your natural skin tone and apply it to any dark spots, making sure to blend the edges.
With these tips, you'll be hiding your blemishes as if you were a professional makeup artist. And, once those pesky blemishes are covered, they'll stop drawing focus away from your other gorgeous features.
Applying Concealer to Brighten Your Under-Eye Area
Aside from covering blemishes, you may think of concealer as a tool to hide dark circles or bags under your eyes—especially if you've been getting less sleep due to work, school, or family demands.
And that's true! You can definitely learn how and where to apply concealer to make those dark circles less noticeable. With the proper application technique, you can cover dark circles and brighten the skin under eyes, drawing more attention to those gorgeous eyes.
To always look bright-eyed and well-rested:
Use an eye concealer that's a slightly lighter shade than your natural skin tone. This is key to achieving a brightening effect and disguising those pesky under-eye circles.
Apply the concealer in the shape of an upside-down triangle under your eyes, making sure to leave space beneath your bottom lashes so as to not get a crease. This pattern will also help effectively cover your dark circles so they can stay your little secret.
Gently blend the concealer using a concealer brush or a clean finger, being careful not to smudge the concealer around. Though you can use a few different types of makeup brushes to apply concealer, a flat tapered brush is typically best for this area of the face.
You can also apply a bit of concealer on the skin around the inner corner of your eye (near your tear duct), as well as the outer corner of your eye to make your eyes pop. However, it is important to note that concealer is meant for external use only and direct contact with eyes should be avoided. If contact does occur, flush thoroughly with water. In the case of irritation, discontinue use and consult your doctor.
Applying Concealer to Contour Your Lips
Another amazing way you can use concealer to amplify your features is by contouring your lips and giving them a fuller appearance.
To learn where to apply concealer to amplify your lips, you need to:
Draw attention to your cupid's bow with a dark lip-liner
Line your lips slightly bigger than their true shape
Fill in your outline and blend with a nude lipstick
Use concealer right below the bottom of your lip
Using the concealer underneath your lip will help the makeup look clean and create the illusion that your lips are fuller. For best results, try a concealer slightly darker than your natural skin tone to emphasize the shadow under your lips.
Love Your Look Everyday with Honest®
Concealer is more than a one-trick pony. With the right techniques, you can elevate your look by color-correcting blemishes, brightening your eyes, and contouring your lips. However, to truly be effective, all of these methods require one thing: an excellent concealer.
That's where Honest comes in. Our Flex concealer is the versatile concealer you and your makeup bag have been searching for. Not only does it go on easy, but it's also formulated with clean ingredients, meaning you don't have to worry about ingredients of concern.
If you're ready to step up your concealer game and highlight your gorgeous features every day of the week, add our Flex concealer to your daily makeup routine and get glowing.
We aim to provide you with the most honest and credible information possible. This article was reviewed for accuracy by The Honest Team and was written based on trusted sources that are linked at the bottom of the article.
blog_review_statement