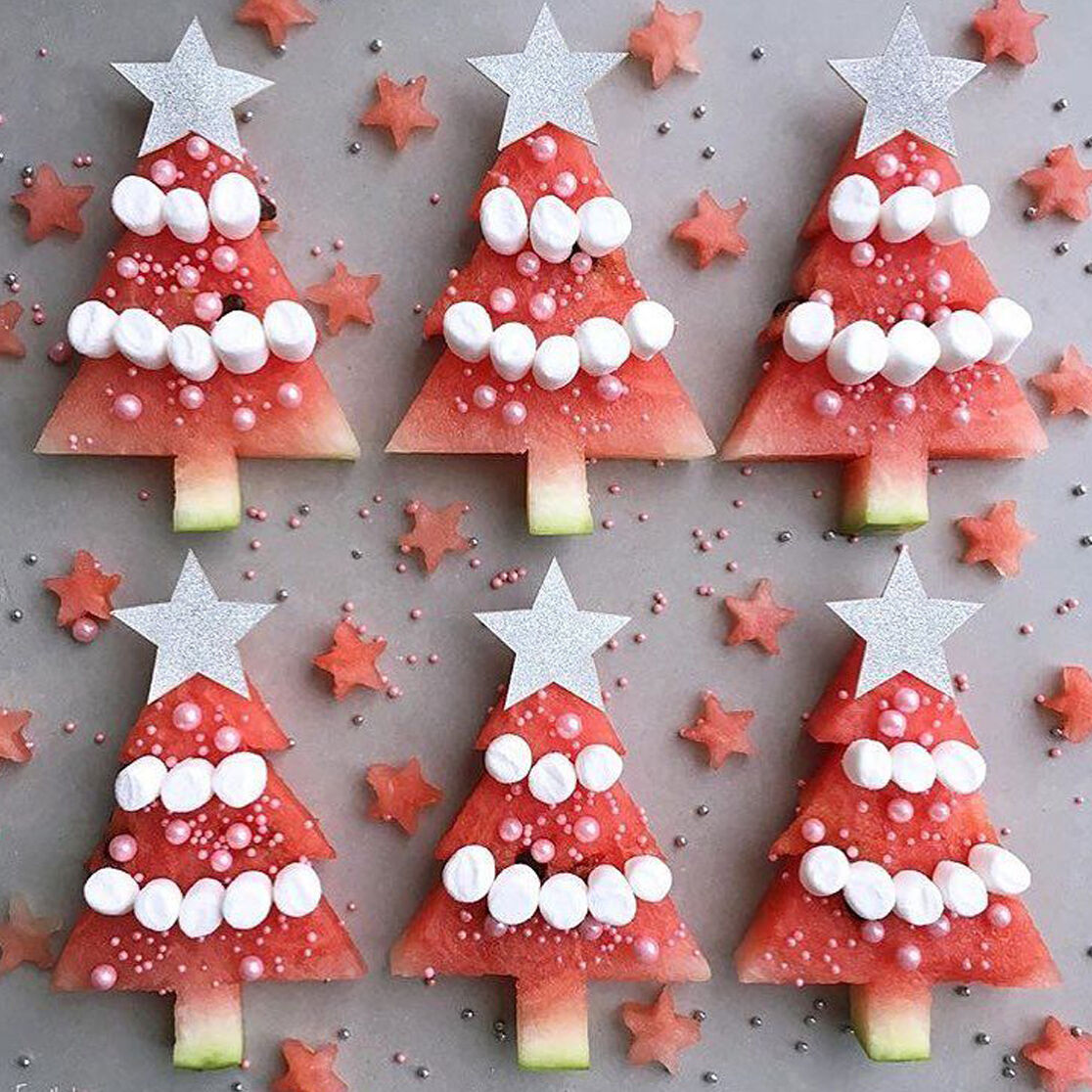 Image by Golbahar Hoseinzadeh
After you have cooked all the Thanksgiving dinner list of items worth trying and done all the Thanksgiving activities for kids, it's time for a Christmas treat! The holidays are just around the corner, and with them, lots of Christmas goodies to enjoy. These include Mom's baked ham, Grandma's garlic mashed potatoes, Dad's famous turkey stuffing, and not to mention desserts like pumpkin pie, banana pudding, fudge, and other sweet treats.
It often becomes a holiday season of excess, and kids especially are thrilled to push it to the limits with all the things available for consumption. What's a conscientious mom to do? You obviously want to make sure your kids not only enjoy the holidays, but also eat as healthy as possible without depriving them of the fun of Christmas and family gatherings around the food table.
If you have picky eaters this Christmas season, you already know that trying to come up with healthy Christmas treats that pass muster with the age ten and under crowd can be quite the task. Sugar seems to be in nearly everything nowadays, and with sugar being so prevalent, sugary treats are often the go-to items on the dessert menu.
However, that doesn't mean you can't buck the status quo and create some out-of-this-world snacks, treats, and vegan holiday recipes that also offer maximum health benefits, with your kids being none the wiser.
What are the Healthiest Snacks for Kids?
Remember that sugary and heavy desserts are almost synonymous with Christmas these days. Many of the Christmas snacks for kids are either loaded with sugar in the recipe, or covered with sugary toppings, or both. More and more, we are waking up to the reality that an excess of sugar is wildly unhealthy, leading to all kinds of health issues, not to mention the resulting damage to the teeth and gums that occurs.
That's why we propose that a truly kid-friendly snack should check off several boxes to pass the health test.
Offer Snacks with Minimal Amounts of Sugar
All kid-friendly snacks should possess a minimal amount of processed sugars. Too much sugar can lead to cavities, feeling too full, extra calories that cause unwanted weight gain, inflammation, skin issues, and more. Better to just skip the frosted cookies, candies, and other sugar-rich snacks entirely and opt for snacks with no added sugars instead.
Offer Snacks Made of Fruits, Veggies, Nuts, and Dairy
You can't go wrong with veggies and fruits containing natural sugar to satisfy the sweet tooth without going overboard. Nuts are an excellent healthy snack for kids and adults alike, loaded with healthy fats and protein. Dairy is also rich in protein and healthy fat, and as long as your kiddo isn't sensitive to lactose, it makes a great snack ingredient.
Don't Skimp on Protein and Fat Content
Check the nutrition content of the snack you plan to give to your kids. If it has little to no nutritional density, it's probably wiser to skip it. Look for things rich in vitamins, amino acids, proteins, and healthy fats, to help fuel the growth of young, rapidly evolving brains.
Keeping these criteria in mind, below is a list. We have compiled some of our favorite––healthy obvi!––Christmas-themed snacks. We can almost guarantee that even the pickiest of your kids will love them, and if they don't––well, maybe a teeny white lie that Santa only comes to visit kids that eat what's on their plate might motivate them. A mom's gotta do what a mom's gotta do!
Healthy, Kid-Friendly Christmas Snacks
Watermelon Trees
If you can get your hands on fresh watermelon at Christmas time, the red and green colors make a perfect Christmas-themed snack. Cut the watermelon with a Christmas tree-shaped cutter and serve. Additionally, you can top it with some yogurt or sweet cream to serve as snow.
Santa Fruit Skewers
Make a skewer with a banana, a strawberry, and a marshmallow. Use the banana as the body of Santa and the strawberry and marshmallow as his hat.
Banana Snowman Kebabs
Make a snowman using skewered banana slices, topped with a strawberry and grape hat.
Chocolate Covered Banana Penguins
Dip the top and back of a banana in chocolate, stick some googly eyes on top, and use halved M&Ms to make a beak and feet. Viola! The result is an adorable Banana Penguin that's fun and tasty.
Christmas Apple Slices
Cut out the middle part of an apple slice with a star or tree-shaped cutter and serve. You can also layer the cut slices with jam or almond butter/peanut butter and make a delicious apple and almond butter/peanut butter sandwich. This is an excellent vegan Christmas sweet treat too!
Pita Christmas Tree
Use a tree-shaped or a simple triangle-shaped cookie cutter to cut pita slices. Top them with green guacamole and chopped cherry tomatoes.
Egg Snowmen
Why not make snowmen using hard-boiled eggs and decorate them with a carrot hat and nose, as well as peppercorns for eyes and sprigs of cilantro for arms? Super cute, super fun, super good.
Penguin Olives
Black Olives, a piece of carrot, and some cream cheese are all you need to create the cutest little penguin. If your kid is an olive lover, these will be gone in minutes.
Christmas Bliss Balls
Make a protein-rich snack with the help of dates, rolled oats, and––optional––cranberries. Roll them in shredded coconut for added texture and an extra Christmas-y look.
Grinch Kebabs
Skewer a grape, along with a slice of banana, a strawberry, and a marshmallow on top to create the Grinch with his very own Christmas hat.
Reindeer Pancakes with Turkey Bacon
Make a batch of small oval-shaped pancakes. Arrange them in the form of a face with ears on each side, and top them with bananas and strawberries to give them eyes and a nose. Use bacon slices to make the reindeer horns. Yummy for the tummy!
Banana and Strawberry Candy Canes
Try making a candy cane out of slices of banana and strawberry, and serve to your favorite elf. Bonus points if you offer a bit of sweet cream for dipping.
Kiwi Christmas Tree
A most beloved yet underutilized fruit, the kiwi is perfect for making trees. Arrange kiwi slices in the form of a Christmas tree and use the skin as the tree "trunk." Decorate your tree with blue and red berries and finish off with a banana star on top.
Healthy Foods to Bring to a Kid's Party
Let's face it, making healthy snacks for a kid's party is challenging at best. To help you out, we've collected some healthy party snack ideas we are pretty convinced most kids will love. The most popular, of course, is ––drumroll please––pizza!
Star/Tree Shaped Mini Pizzas
Cut your pizza dough with the help of star and tree-shaped cookie cutters. Decorate the pizzas with kid-favorite toppings like pizza sauce, cheese, pepperoni, ham cubes, tomatoes, pineapple, and more.
Mini Pepper Pizzas
Cut bell peppers in your kid's favorite colors in half and layer them with pizza sauce, cheese, mini pepperoni slices, and ham cubes. Bake until the pepper is cooked and the cheese is sizzling.
Mini Zucchini Pizzas
It's really hard to go wrong with any variation on America's favorite food. Another healthy pizza alternative is a zucchini pizza—layer somewhat thick-cut zucchini slices with pizza sauce, cheese, and mini pepperonis. Bake until the zucchini is tender. These are so good and so snack-y, your kids will not even know they are eating zucchini veggies!
Rice Krispie Snowballs
Granted, these may not be the most healthy snacks, but they are certainly well-loved by the kiddos. Make a ball of rice crispy cereal stirred with melted butter and chocolate until a paste is formed. Roll the resulting mixture into balls. To make it even sweeter, you can top it with sprinkles, or you can crush up a bit of candy cane candy and stir it into the melted mixture.
Star-Shaped Gingerbread Cookies
These are your traditional gingerbread cookies with a slight twist—fun Christmas shapes! Depending on how creative you're feeling, you can also cut them into tree shapes or even shapes like candy canes and gift boxes. Use sprinkles or low-sugar icing for decorating.
Donut Apples
Cut the apple slices into donut shapes, and top with cream cheese. For a more party-appropriate look, color the cream cheese and top it with assorted sprinkles. You can also flavor the cream cheese with honey and melted chocolate. Kids will go crazy over the colored "frosting" and sprinkles.
Star-Cut Sandwiches
Using different sizes of star-shaped cookie cutters, make these Christmas-themed sandwiches. Cut the top star of the sandwich in the middle with a smaller star cutter to let the Christmas-colored cucumber, tomato, and/or cream cheese filling show through.
Healthy Christmas treats and snacks don't have to be boring. In fact, with some creativity, they can be excellent family fun to make and even tastier fun to eat!
That's a Wrap
See, there are plenty of delicious, healthy treats for you and your kids to indulge in this holiday season! From star-shaped gingerbread cookies to chocolate covered banana penguins, we've got you covered. You know what else we have you covered on? The clean up part of these festivities. Let your kids have fun and get a little messy--our cleaning products will be on standby once they are finished making their holiday-inspired snacks!
We aim to provide you with the most honest and credible information possible. This article was reviewed for accuracy by The Honest Team and was written based on trusted sources that are linked at the bottom of the article.
blog_review_statement