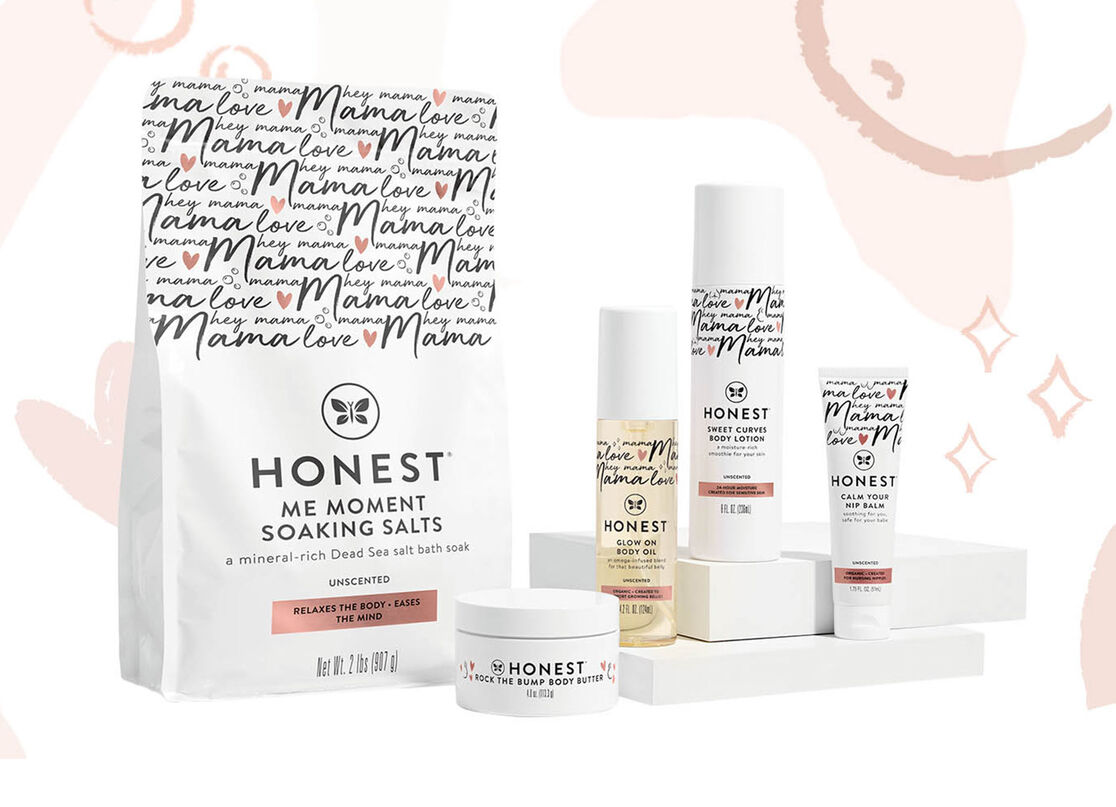 Becoming a mama is everything, but it also changes everything: your body, your lifestyle... and your medicine cabinet. Who else out there was shocked at how many of their fave self-care products had to be put away at a time when you feel like you need them the most. For mamas, self-care isn't a luxury, it's a necessity. That's why we created our newest (and prettiest #shelfiegoals) collection of products designed with mama in mind made with nutrient-rich, nurturing ingredients.
Meet the Honest Mama Squad
Each product in this collection is designed for you, mamas: to help you love your glow, even if you've got a few varicose veins; rock your new curves, even when you're feeling a little bloaty; and treat yourself, even if you can't go out to sushi right now. Most importantly, we want to help you have a happy, healthy journey before, during and after you bring your babes into the word.
Safe Skin Products During Pregnancy
Calm Your Nip Balm Treat your tatas to a natural nipple balm that's rich in organic omegas like coconut oil and shea butter, giving you the relief you need.
Made Without: Petrolatum, Lanolin, Synthetic Fragrances, Silicones, PEGs, Phthalate
Sweet Curves Body Lotion Give your dry skin some self-care with a mama-loving lotion made with a blend of healthy omegas and nurturing plant-derived shea butter + avocado oil. It's like a moisture-rich smoothie for your skin that gives you 24 hours of moisturization (because busy mamas don't have time to reapply).
Made Without: Silicones, Parabens, Synthetic Fragrances, Phthalates, Mineral Oi, Dyesl
Rock The Bump Body Butter: Give those stretch mark-prone spots some TLC with our buttery smooth blend of ingredients that harness the power of shea butter, avocado oil and vitamin E. You'll look and feel radiant all over.
Made Without: Parabens, Fragrances, PEGs, Petrolatum, Lanolin, Silicones
Glow On Body Oil Add an extra drop of sunshine to your bump-care routine with our natural, plant-based body oil with organic coconut, avocado and olive oils. Pro-tip: Use with our Sweet Curves Body Lotion for extra hydration
Made Without: Silicones, PEGs, Fragrances, Mineral OIl, Parabens
Me Moments Soaking Salts: Give yourself a spa moment, mama, with a mineral-rich relaxing bath soak made with a blend containing dead sea salt. Destress your bod and detoxify your mind— see ya later, pregnancy brain.
Made Without: Synthetic Fragrances, Phthalates, Dyes, Magnesium Sulfate, Sodium Lauryl Sulfoacetate (SLSA), PEGs
Safe Ingredients for Pregnancy
All of our ingredients were chosen with mama in mind and here are some of the ones we're most excited about and why:
Avocado Oil: Rich in Omega-3s to help nourish and moisturize the skin. Plus, it's known to help with ichy, dry skin.
Shea Butter: Known to soften skin and encourage your skin's elasticity and it aids in soothing dry, itchy skin.
Vitamin E: A powerful antioxidant that can help repair skin.
Pregnancy Care Tips
Mix up a moisturizing skin mocktail for your growing belly.
Combine Sweet Curves Body Lotion and Glow On Body Oil and rub all over that bump. Then, take Rock the Bump Body Butter and give some extra TLC to the spots where you need it the most.

Hop in a warm bath with our soaking salts and try our Me Moment Meditation. Close your eyes and feel the warmth of the water on your skin. Breathe in slowly for five seconds, then slowly breath out. Repeat. Let go of the worries of the day and feel your body gently relax. You're amazing, mama.

Give love to those tatas. Pregos: Apply Rock the Bump Body Butter all over those boobies to help moisturize your skin as they grow. Feeding mamas: Soften a pea-size amount of Calm Your Nips Balm between your fingers and apply to the whole nipple area. It's safe for your little one, so no need to wipe off before breastfeeding.
Pregnancy Health Tips
Remember to eat a healthy breakfast.
Try making a quick egg scramble with your leftover veggies. If you're not really a breakfast person, give these two smoothies a spin.
Don't forget your vitamins.
Ask your doctor which are the best for you. We love DHA and folic acid.
Prep with these post-birth health tips from our go-to nutritionist Kelly Leveque.
We aim to provide you with the most honest and credible information possible. This article was reviewed for accuracy by The Honest Team and was written based on trusted sources that are linked at the bottom of the article.
blog_review_statement