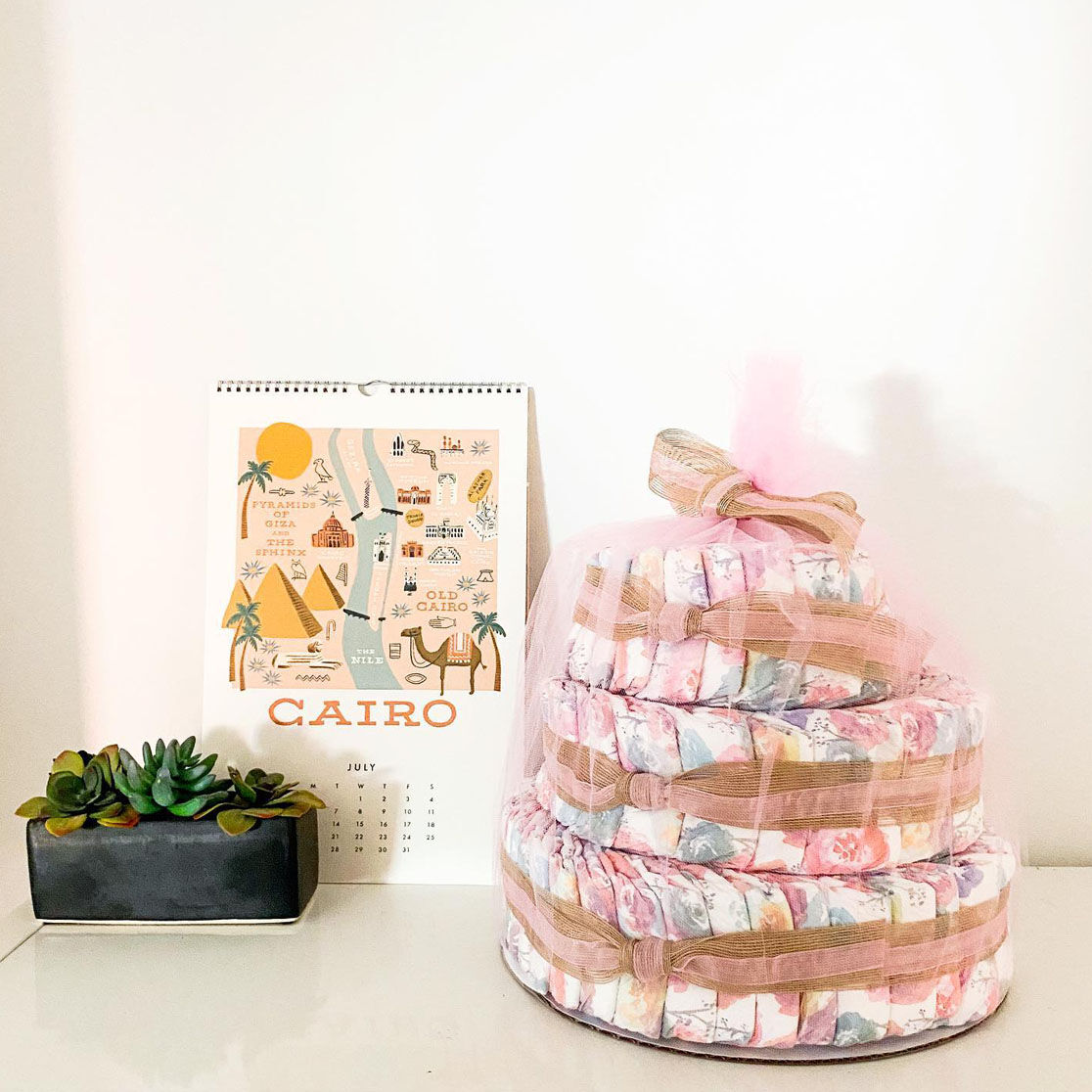 In the last few years, we've all experienced a lot of changes (hello, back-to-back Zoom meetings). Yet, nothing tops the greatest change of all—a little one on the way! And during spring, there's no better time to celebrate a new life.
Between lush florals and fresh dew, springtime is practically made for baby showers. Announce your pregnancy in style with our top spring baby shower ideas, featuring:
Springtime decor
Food & beverages
Party games
Virtual options
Guest party favors
Step 1: Spruce Up the Decor
Bright blooms, soft linens, pretty pastels—some things just feel like spring. Create the ultimate spring baby shower by putting these baby shower party supplies and decorations front and center.
Need some fresh inspiration? Start with our top springtime decor tips.
Spring-Ready Colors
You might assume that spring colors mean one thing—pastels, pastels, and more pastels. But this season's color palette extends far beyond baby blues and light pinks. From monotones to trifectas, shake up the color scheme with these trendy spring shades:
White and yellow
Lavender and gold
Green, brown, and cream
Turquoise and yellow
Orange and peach
Red, pink, and white
Brown and sky blue
Fuschia, green, and yellow
Buds, Blossoms, and Blooms
From backyard bashes to fancy soirees, no spring baby shower celebration is complete without some blooms. Bring the beautiful colors and scents of the season to your baby shower with fresh florals. You could even use these fresh flowers as party favors for your guests to take home.
Traditionally, baby shower florals evoke the softness and beauty of a new life. Popular varieties include soft petals, light colors, and delicate shapes, such as:
White or yellow roses
Hydrangeas
Peonies
Plum Blossoms
Anemones
Carnations
Lilacs
Sweet Peas
Want a more contemporary or unique look? Your fresh flower choices are practically endless in springtime. Wow guests with bold blossoms like snapdragons, anthuriums, tulips, or daffodils. You can even arrange succulents for a bit of bohemian, southwestern flair.
Fun Centerpieces
Big or small, every baby shower deserves a festive centerpiece. These star decorations elevate any table to fun heights, encouraging guests to gather. For spring baby showers, consider some of these cheerful centerpiece ideas:
Balloons – Simple, classic, and eye-catching, balloons are a winning centerpiece. For a traditional look, tie a few long-stringed oval balloons in a shade from your color palette. For a fun twist, look for shaped balloons. Clouds, flowers, and bees all add to the spring fever.
Baskets – The beauty of a basket? You can fill it with other decorations. For a boho twist, place wicker or straw baskets at the center of your tables to hold candles, florals, terrariums, or other decor.
Watering cans – Casual yet chic, watering cans add whimsy to any baby shower table. Not to mention, they perfectly fit any springtime garden or "April Showers" themes. Fill your cans with floral bouquets, or paint big B-A-B-Y letters on their sides.
Springtime Themes
You've got the rosy colors, the fresh flowers, and the linen tablescape—but how to pull it all together?
Time to choose a springtime shower theme.
Themes are a wonderful way to focus (but never limit) your party decor. During this season, the fresh aesthetics go hand in hand with baby-centric themes. Kick off some ideas with these spring-friendly motifs:
Animal Kingdom – The only thing that might rival your little one in cuteness? A brigade of baby animals. Choose an adorable creature (or multiple) to place throughout your shower decor, from cake designs to table linens. Popular springtime animals include elephants, bunnies, ducks, cows, and lambs. For an oh-so-cute touch, add some mama-and-baby imagery as well.
(Honey) Bun in the Oven – Be the queen bee of the party with a hive-themed baby shower. Adorable buzzers and that signature black-and-yellow pattern will bring a smile to every guest's face. Add a honey-flavored tasty treat to the menu to round out the theme.
Garden Paradise – If there's any season for flowers to shine, it's spring. Crank the petals up to one hundred with plenty of garlands, bouquets, greenery, or even a flower wall. You can even flower-ize your food with edible petals. Want to make it easy? Host your shower in a garden setting.
Tea Party – Rock your dantiest outfit and upturned pinky with a classic tea party theme. Elaborate china, soft linens, roses, and (of course) plenty of tea and finger sandwiches all turn up the teatime fun. For a small yet formal celebration, this elegant theme fits the bill.
Step 2: Serve Spring on a Platter
One of the top baby shower tips we can offer—Don't leave your guests with rumbling stomachs. For a satisfying shower, delight their senses with tasty springtime treats.
Typically, baby showers shine with non-messy finger foods—minimal cleanup, maximal satisfaction. However, you can serve anything from a single charcuterie board to a full buffet.
Whatever your choice, we have a few seasonal flavors to inspire your menu:
Sweets – Every shower needs a sweet treat to celebrate. Iced sugar cookies and cupcakes never go out of style, while layered cakes or delicate petit fours will dazzle crowds. For flavors, pick from seasonal berries (blueberry, strawberry, raspberry), fresh dairy (cheesecake, buttermilk), citrus, (lemon, key lime, grapefruit), rhubarb, and coconut.
Savories – You don't need a four-course meal to serve savory dishes. Take the stress-free route with a fresh crudite, cheese, or charcuterie board. Simple appetizers like deviled eggs, pesto toasts, prosciutto-wrapped melon, and pita flatbreads also highlight spring flavors.
Drinks – It's not all about the booze. For you and other moms-to-be, whip up a tasty mocktail. Ginger-lemon sparklers, berry spritzers, and virgin piña coladas all offer some spring break flair—minus the spring break hangover. For a brunch celebration, a virgin bloody mary or sparkling mimosa never fails to please.
Step 3: Play it Up
A baby shower is all about the mom-to-be. However, that doesn't mean your guests can't have any fun. Make your spring baby shower a party to remember with some lighthearted games.
Some of our favorite baby shower games include:
Mommy and Daddy's Secrets – The star couple plays "The Marriage Game." Guests write down questions that both parents guess. After answering each other's questions, the couple then guesses each other's answers in front of all guests.
Guess the Baby Food – All guests write down their best guess at the contents of multiple baby food jars. Hand out a small prize to the person with the most accurate guesses.
Don't Say Baby – Upon arrival, everyone receives a diaper pin. If you hear anyone say the word "baby", you get to take their pin. The person with the most pins wins!
Step 4: Go Virtual
In the year 2022 gather with all of your loved ones—near and far— by throwing a virtual baby shower.
While Zoom might be your office's go-to videochat platform, it might not be the best party host. Limited times and clunky formats make it difficult to feel connected through screens. If you are interested in learning how to plan a virtual baby shower that will be not only safe but memorable, consider these social-friendly platforms that feels like you're in the same room:
Google Hangouts
House Party
Webex
Discord
Have just one or two guests that want to ring in? Set up a tripod for your phone, so that they can "stand" in the party. For however long they attend, any in-person guests can come up and chat virtually with them.
Step 5: Spark Excitement with Invitations
An invitation is like a sneak peek into your celebration—so make it a peek they won't forget.
Above all, your invitations should match your party's theme. To make that easier, plan your shower theme before designing invitations. Once you have your decor down, your can create an eye-catching invitation with these tips:
Content – No matter how beautiful your invitation, it doesn't do much good without all the important details. Give your guests a clear picture of your event by providing the location, time and date, contact information, guest policies, and gift policies of your bash.
Format – To go digital, or not to go digital? That is the modern question. While e-invitations are more efficient, eco-friendly, and affordable, paper invitations can be more creative and personal. Choose whichever format matches your plans and budget best.
Font – Hosting a fancy teatime? Cursive or serif writing will relay that elegance. Celebrating your baby with a big game night? Add splashy word art or swirly fonts to match the vibe. The font should convey your party's formality and personality.
Decorative motifs – Every baby shower invitation should include at least one visual to draw the eye. Think of images or motifs that match your decor theme, like florals, baby baskets, clouds, or animals. On paper cards, you can even play around with images and textures. Add tactile spring elements like lace, bows, or even cutouts for a show-stopping card.
Step 6: Give Back to Your Guests
Every mom-to-be deserves all the layettes, strollers, and spa kits in the world as baby shower gifts. But to show guests your own appreciation, give them a little something back. These springtime party favors will have every guest smiling after your baby shower:
Flower seed packets
Egg-shaped chocolates
Decorated cookies
Mini succulents or potted plants
Personalized home items (glasses, magnets, keyrings)
Welcoming Your Baby with Honest®
The most important part of any baby shower? Sharing the excitement with loved ones. With your biggest supporters by your side, your spring baby shower will bloom into an unforgettable event.
During the final weeks of pregnancy (and right after), you might need a little extra friendly support—and Honest® is here to provide it.
Our clean and thoughtful products are built for new moms to thrive. Whether you need to soothe stretch marks or detangle post-hospital hair, Honest® can lend a gentle hand. Once your baby arrives, he or she can also receive our nourishing love. Explore our baby and adult collections today for a healthy and happy start to motherhood.
Sources:
The Best Free Video Chat Apps for Hosting a Virtual Holiday Party. LifeHacker. https://lifehacker.com/the-best-free-video-chat-apps-for-hosting-a-virtual-hol-1845727370
The Most Symbolic Flowers for a Baby Shower. Martha Stewart Living. https://www.marthastewart.com/8087490/baby-shower-flower-symbolism
We aim to provide you with the most honest and credible information possible. This article was reviewed for accuracy by The Honest Team and was written based on trusted sources that are linked at the bottom of the article.
blog_review_statement