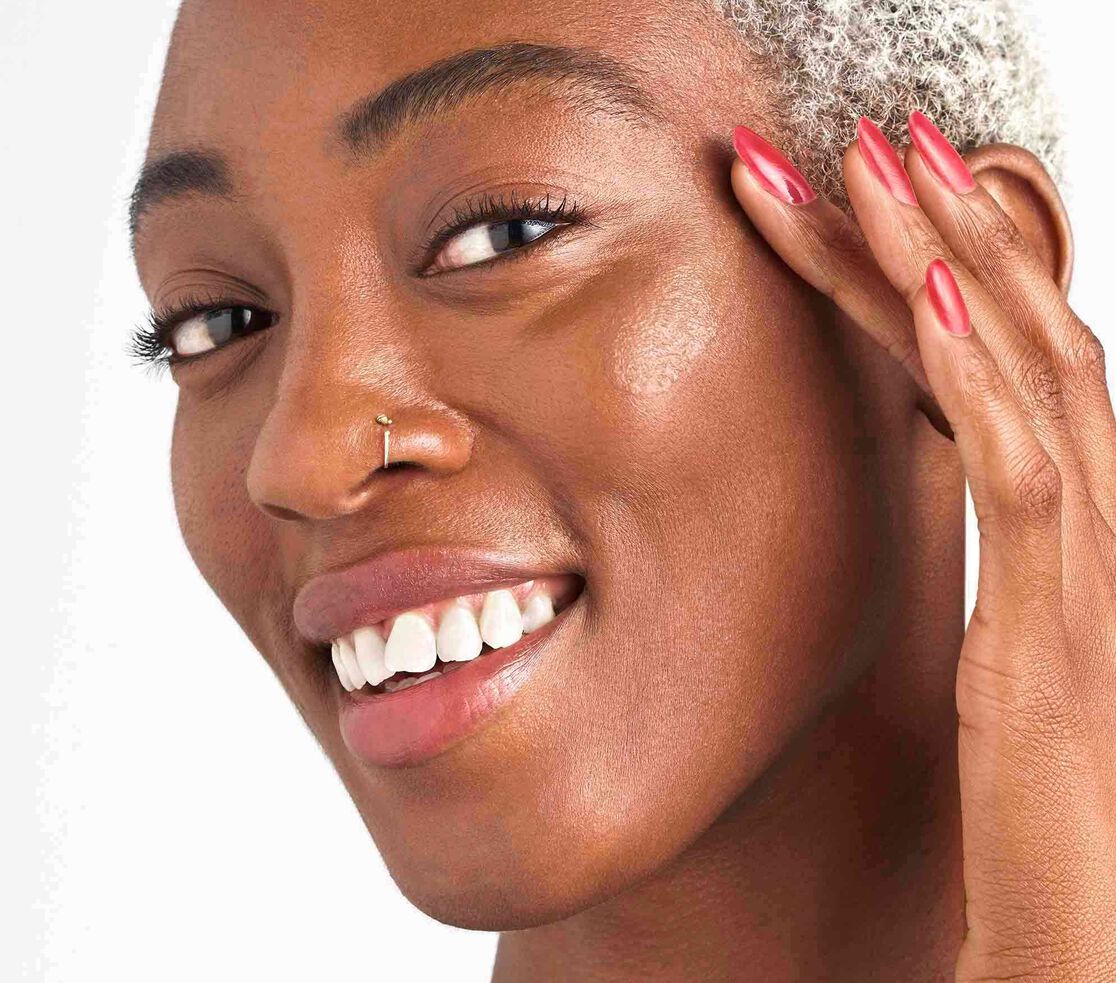 Do you want to know how to get dewy skin? The kind that makes you look like you've had plenty of rest and glowing skin from within? Fortunately, it doesn't take much to achieve it. First, start with clean skin.
You don't need a makeup artist to make you feel radiant and empowered like you are. You can make yourself have that natural glow within the comforts of your own home. Proper skin care is an essential part of any daily makeup routine. You want to start with a clean palette before adding on products or colors. Cleanse and moisturize your face before applying anything else. Use a hydrating moisturizer with key elements like shea butter and coconut oil that will absorb into the skin and give it a smooth, soft appearance. Make sure you also apply it to your neck and down to your collarbone. Add an under eye cream to help instantly brighten the area, and you'll be good to go.
When the skin is flaky or dull, it's more difficult to build up and maintain dewy skin. If your skin lacks moisture throughout the week, try a DIY superfoods facial with natural ingredients for added hydration. This will help you eliminate dry skin and enhance your complexion. Additionally, if the eye area is extra dry, apply sliced cucumbers or a cool, damp compress to your eye area to depuff before using under eye cream or skin oils. Finally, drink plenty of water daily to achieve and maintain luminous skin.
Once you've prepped the skin, all it takes is three easy steps to achieve a natural dewy makeup look. When you want to keep your face makeup minimal yet flawless, think of this as your go-to.
Step 1: Lay the Foundation
Depending on the level of coverage you seek, you can stick with a primer and concealer and only add foundation when necessary. Or you can opt for a tinted moisturizer to add a hint of coverage and a gorgeous, all-over glow. Primer is a key to natural dewy look because it helps to reduce clogged pores, fill fine lines, and make applying other makeup easier. Our Everything Glow Primer adds a hint of illumination to brighten up the face. The hyaluronic acid hydrates the skin, while the peony root extract gives it that extra light reflecting boost.
With its light tint, this product can be worn on its own for smooth, even coverage, or serves as the perfect base to layer with other makeup. To apply, use a dime-size amount and tap it onto your face with the tip of your finger or with a makeup sponge. Smooth over the entire face to prep the skin and give it a beautiful, even glow.
Step 2: Set the Makeup
Set your primer and foundation with a loose powder all over the face, especially the t-zone. By using a big, fluffy brush and our Invisible Blurring Loose Powder, you'll set your makeup without leaving a soft, matte finish. Lightly swirl your brush in the product and tap off any excess before applying to the face. Then, tap the brush a few inches away from your skin to dust the powder over your face and neck.
Want to know our other tips for glowing skin year-round? Learn how to use highlighter to level up the glow up. Apply the Luminizing Glow Powder on the cheekbones, near the brow bone, and along your collarbone, where the light naturally hits for a subtle shimmer.
Step 3: Add a Pop of Color
After checking out our guide on how to apply blush to your face shape, build upon your dewy skin by adding color on the cheeks, eyes, and lips. The Creme Cheek Blush adds a beautiful pop of plum, peach, or pink without disrupting the fresh-faced look. Although this cream blush is highly pigmented, the sheer finish blends in seamlessly to give your cheeks a dewy flush. The lightweight formula feels smooth against the skin and offers just the right amount of color.
Finish the dewy look with a gorgeous hue on the lip with one of our hydrating Gloss-C Lip Gloss. With a formula that includes moisturizing ingredients like shea butter, coconut oil, and murumuru butter, your lips are left feeling supple and soft with a satin finish. With eight different colors to choose from, you can instantly change your look with a single swipe.Top it off with our natural lengthening Extreme Length Mascara + Lash Primer. Once you know how to apply mascara properly, it is guaranteed to make your lashes pop, and your look is complete!
Makeup Made Easy
When you start with healthy skin that's well-prepped, it's easy to achieve a glowy and natural look that'll take you less than 10 minutes. Keep it simple with these three makeup tips or let this serve as a base for all your makeup looks.
This dewy makeup look is flattering on everyone and is appropriate for any occasion. It's simple, fresh, and leaves you looking luminous throughout the day. By using products that hydrate and highlight the skin, it makes achieving dewy skin that much easier. When you have more time, we encourage you to pull out all your professional makeup skills. Feel free to add a pop of blush, a sparkle of highlighter, and make your brow pointy and looking fabulous. However, next time you want to look pulled together but don't have a lot of time, this natural dewy makeup look will be a winner every time.
We aim to provide you with the most honest and credible information possible. This article was reviewed for accuracy by The Honest Team and was written based on trusted sources that are linked at the bottom of the article.
blog_review_statement