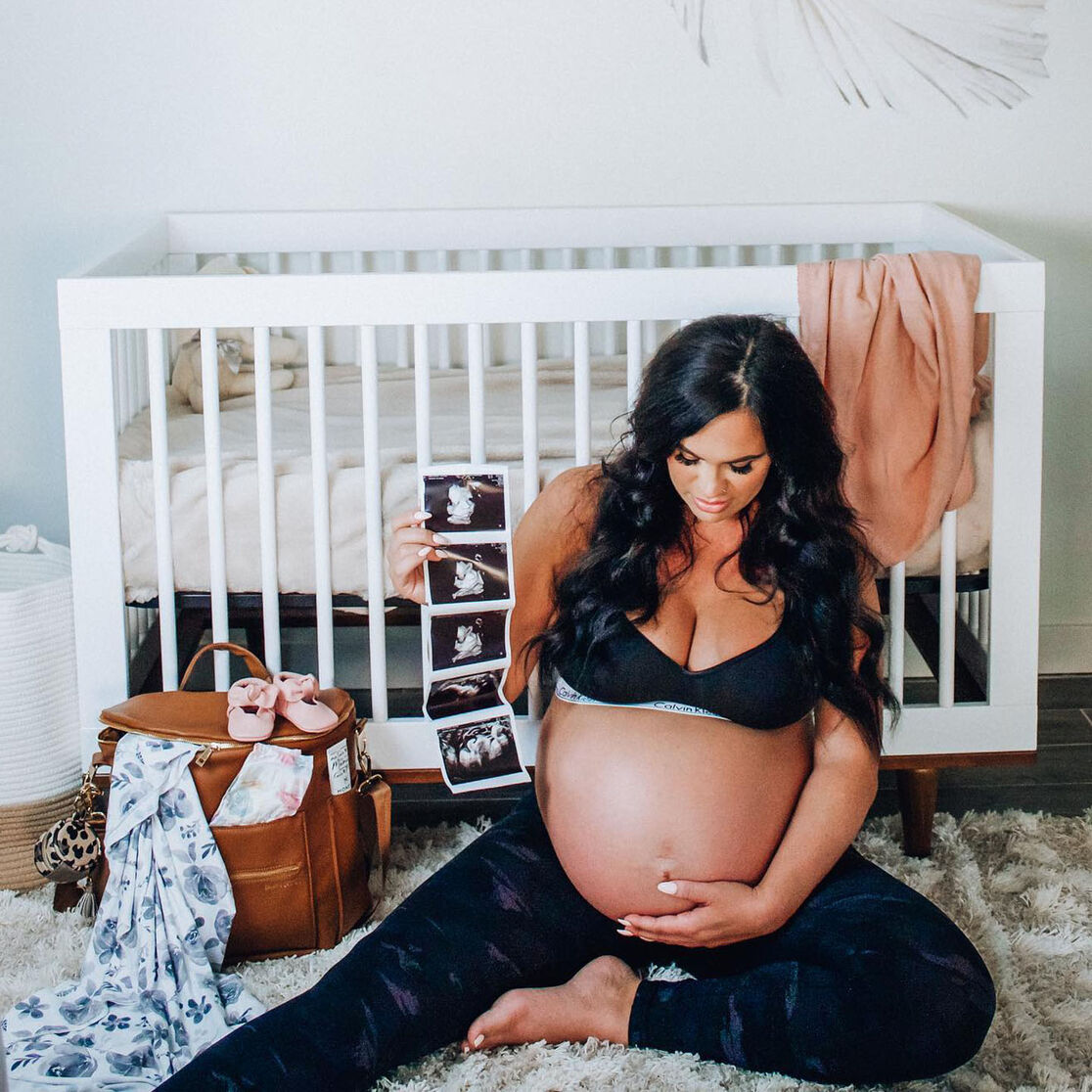 Image by @lyndseyhath
It finally came—that little pink plus sign. Yippee! Your little bun in the oven is just beginning to rise. Now, it's time to share the excitement.
A pregnancy announcement isn't a one-and-done job. Depending on your partner, family, and friends, it might take a month or longer to spread the news before you can start planning your baby shower. Plus, in 2022 there are more creative pregnancy announcement ideas than ever before to help you decide how to share the news of this joyful life change.
Not sure where to start? We've got our own good news to share—we've got an exclusive guide to rolling out your pregnancy in style, with tips on:
Timing
Communication methods
Telling your partner
Telling your friends & family
Pregnancy Announcements 101: What are the Rules?
After receiving the exciting news, it can be hard to figure out next steps. Do you call every family member immediately? Buy one hundred cards? Make an Instagram post?
Take a breath and pause. When it comes to announcing the big news, the only "right" way is what makes you feel comfortable. As long as you think it through, then you're on the right path. Create a pregnancy announcement plan that fits your life with these timing and communication factors in mind.
Timing
With pregnancy, there is a slight time limit on your announcement. After all, that baby bump will typically declare itself about 3 to 4 months down the line. However, that still gives you a generous time window to spread the news.
Consider these timing tips for announcing a baby that works with your schedule:
Double-check – Avoid jumping on the phone to schedule a family dinner after the first plus sign. When it comes to home pregnancy tests, positive results can prove false thanks to hormonal interferences or even recent pregnancy losses. For the most accurate answer, wait at least one week after a missed period and take at least two tests. That way, you can be certain about the exciting news.
Prioritize partners – After yourself, your pregnancy most directly involves your partner. Whether you created a new life together or plan on co-parenting, it's only right to prioritize telling your partner first.
Give yourself space – Between all the stomach butterflies, don't forget to check in with yourself and give yourself time to enjoy your favorite self care practices. Sometimes, moms-to-be need their space to process the incredible news. Give yourself some time to pamper yourself with the best self care essentials, and remember you only start telling others when you feel ready.
Make a tiered list – You'll probably need to say "I'm pregnant" more than a few times. If you have separate family, friend groups, and acquaintances to inform, then make a quick prioritized list for your announcement. Don't forget to consider when to announce your pregnancy to professional contacts, since it may affect future work schedules.
Communication Methods
From face-to-face convos to emails, there are so many creative pregnancy announcement ideas to uncover in 2022. It all depends on your comfort level and who you tell. From most to least personal, pick between these communication methods to deliver the good news:
In person
Phone calls
Paper cards
E-cards or emails
Social media posts
Creative Ways to Tell Your Partner
Whether you've both been trying for months or the news of your pregnancy came as a bit of a surprise, when it comes to your partner, your pregnancy announcement is a special moment to share—so celebrate in style!
From a romantic night out to jaw-dropping surprises, here are a few exciting ways to tell your partner that a baby's on the way and that the two of you will soon become parents.
Make it a Date
Nothing says "I love you" quite like a perfectly thought-out date. Bring out your inner romantic with a home-cooked meal or a reservation at that restaurant you've both wanted to try. As you share a tender moment together, you can drop the exciting news.
Want to make the date really special? Announce your pregnancy with foodie flair via these fun methods:
Pizza delivery – Whether homemade or ordered, a pizza is the perfect vehicle for an exciting message. Write out the word "baby" yourself with toppings, or ask your local shop to do so for an extra fee.
Plated message – A professional chef might have an easier time accomplishing this one. However, seeing the words "I'm pregnant!" or "We're having a baby!" on a plate are sure to delight any partner. Ask a restaurant if they can pipe out your announcement in a sauce or icing on your partner's plate.
Bottle labels – Know your partner wants a cold one at the end of the day? Replace the label on the bottle with a special announcement. Just make sure your partner doesn't miss the message.
Put a Bow on It
The best way to announce the greatest gift of all? Give your partner a gift of their own.
To announce your pregnancy, you don't need a lavish present. Instead, focus on a cute gift that conveys your baby to come. Some affordable yet adorable ideas include:
Balloons with a message
Diaper-wrapped baby essentials (pacifiers, shoes, etc.)
Your positive pregnancy test
Customized fortune cookie
Flowers with a note
A baby scrapbook to be filled
Get Your Pets Involved
If you and your partner are already fur parents, enlist the help of your four-legged friends to share the news. With pets, the possibilities are endless—as long as they're well-behaved. Consider spreading the word to your partner by:
Writing a note – To keep things simple, write out a short note and attach it to your pet's collar. When your partner goes in for an ear scratch or a belly rub, they'll find the news of your little one along with it.
Personalizing a bandana – You already know your pet will be the best brother or sister to your bundle of joy—but why not make their title official? Order a personalized bandana with the words "big brother" or "big sister" to tie around their neck. It'll be absolutely adorable—and the perfect way to break the news to your partner.
Playing fetch – Not for a ball but a pair of baby shoes instead. If you've got a playful pup, train them to fetch a pint-sized pair of shoes and bring them to your partner. You'll have so much to celebrate that you won't even mind all the slobber.
Creative Ways to Tell Your Family & Friends
When pregnant, you deserve as many "Congratulations!" as possible—so include your family and friends on the fun.
That said, announcing your pregnancy is a very personal action. While some friends sit at the top of your call list, you might not feel comfortable directly telling some acquaintances the news. Don't be afraid to mix and match these creative announcement ideas, depending on your comfort level.
Host a Party
Want to get the word out in one swoop? Then host a party for all to join.
Baby announcement parties are a little different than baby showers. Instead of ladies-only guest lists and baby shower gifts galore, it's a more casual and inclusive event. From tea parties to backyard bashes, plan a winning baby announcement party with these tips:
Design exciting invitations – An invitation is like a window into your party. To turn up the excitement, make that window look dazzling. Choose a color scheme, pick a fitting font, and add baby-friendly motifs (shoes, onesies, pacifiers, etc.) to give your guests a taste of the theme.
Make it a surprise – If throwing a more casual party, this is the perfect chance to surprise your loved ones. Center your party around a secondary event (a football game, a weekend game night, etc.) as a decoy. After everyone's arrival, shower your friends with the joyous news. They'll be thrilled at the extra cause to celebrate.
Provide refreshments – No party is complete without some snacks and beverages. Set out an assortment of tasty finger foods, alongside both alcoholic and nonalcoholic drinks (mom should get a tasty beverage, too!).
Send a Celebratory Card
In today's world, receiving a card in the mail is practically a treat. If you are looking for ways to tell your family you're pregnant, consider sending out a celebratory card! Your friends and family will adore this personal yet formal declaration that your little one is on the way.
When designing your card, take advantage of every decorative detail to convey the exciting news—fonts, colors, illustrations, and appliques. In particular, choose a stirring phrase to declare your announcement. Some great wording and visual pairings include:
"Big brother/big sister duties begin [due date]" + a picture of any older siblings
"Our family is about to get bigger." + a picture of baby shoes.
"Coming Soon" + any baby paraphernalia (binkies, shoes, cribs, etc.)
"We're having a baby!" + a picture of you and your partner
"Love is Growing" + you and your partner holding an ultrasound picture
"We have something to tell you" + silhouette of a baby binky or bassinet
Make a Post
Sometimes, social media can be a positive force—especially when announcing that a baby is on the way.
A social media post will cast the widest net across your acquaintances, colleagues, and friends. In one post, you can share the good news with your entire social circle. Spark attention on your loved one's feeds with a cute picture, such as:
Signs or letter boards with "Baby coming!" or a similar announcement
Baby clothes and shoes
A smiling photo of you, your partner, and your baby bump
Your ultrasound picture
Any older siblings holding a sign ("Little brother incoming!")
Celebrating Your Pregnancy with Honest®
All in all, your pregnancy is yours to share—in whatever way you choose. Whether throwing a blowout party or intimate dinner, we hope our tips give you a few creative ideas for how to announce pregnancy news.
No matter which route you take, every mom-to-be deserves a little pampering. At Honest®, we create clean beauty products to shower every part of your changing body with love. And for your baby, we also carry every hygiene essential—no harsh chemicals, synthetics, or parabens.
Create a nourishing home for both you and your little one with Honest®.
Sources:
When Do You Start to Show? Baby Bump Progression. Healthline. https://www.healthline.com/health/pregnancy/when-do-you-start-to-show
Home pregnancy tests: Can you trust the results? Mayo Clinic. https://www.mayoclinic.org/healthy-lifestyle/getting-pregnant/in-depth/home-pregnancy-tests/art-20047940
We aim to provide you with the most honest and credible information possible. This article was reviewed for accuracy by The Honest Team and was written based on trusted sources that are linked at the bottom of the article.
blog_review_statement