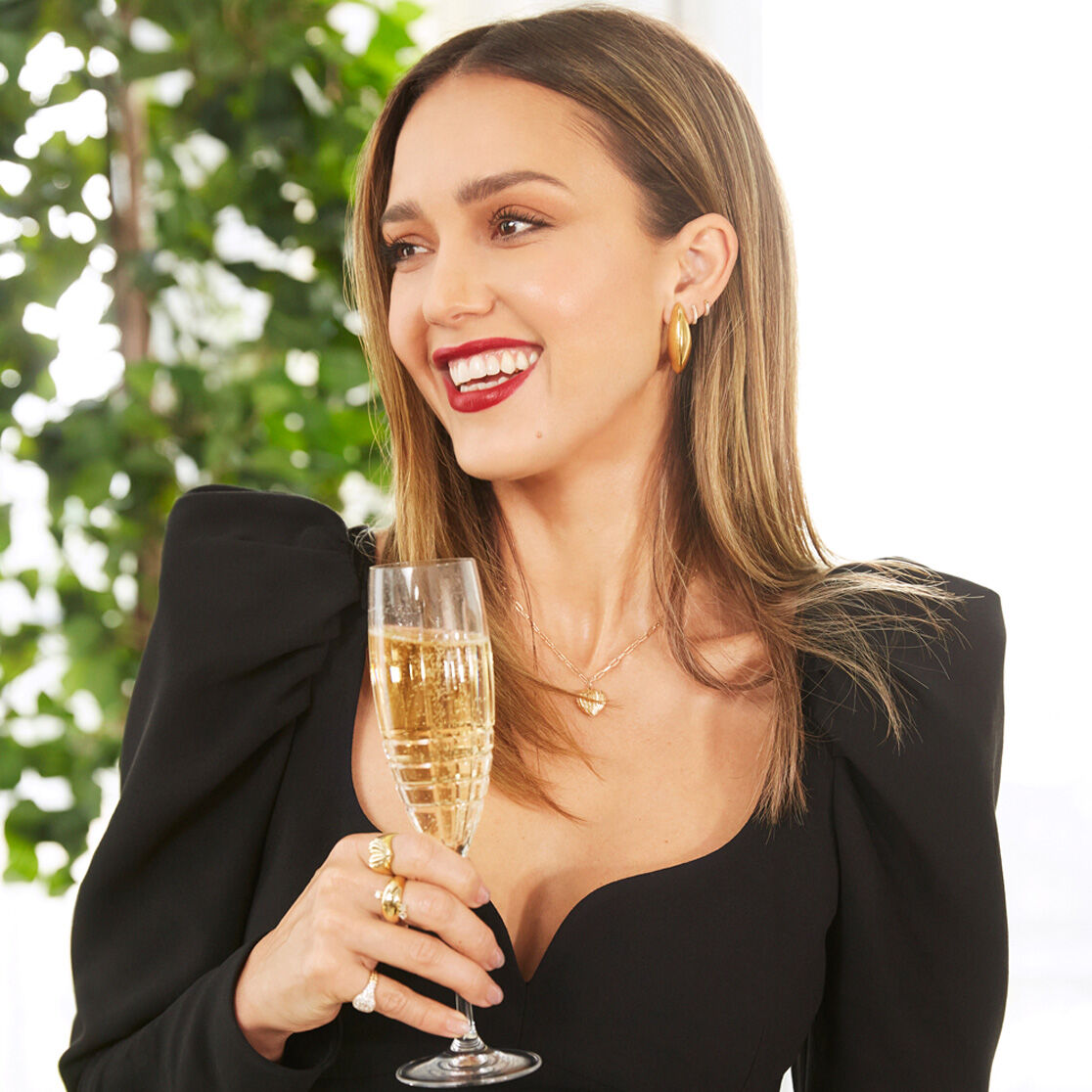 The New Year is coming, and one thing's for sure: It's time to sparkle like Time Square's crystal ball.
A dazzling glitter makeup look is the perfect accessory to help bring in the new year, and can be a great way to accentuate your 2022 ensemble—whether you're opting for a sparkling gown or a sophisticated pantsuit.
Ready to envision your New Year's Eve transformation? Keep reading—we have all the glam makeup inspiration you need to celebrate in style.
How to Begin: Prep Your Skin
First things first: If your glam makeup is going to last until the clock strikes twelve, you're going to need some reinforcements. Here are some tips to ensure your artistry lasts all night long:
Keep your skin subtle and soft with a tinted moisturizer like Honest®'s CCC Tinted Moisturizer. The award-winning formula protects your skin and provides a luminous glow.
Apply a face primer before you add any makeup to help the products adhere to your skin for a longer-lasting look. If you are wondering how to make makeup last all day and night, a proper makeup primer is sure to do the trick.
After your makeup look is complete, finish with a setting spray to extend your look and keep you smudge-free.
You can leave it at that if you like a dewier look, but if you're planning to take a lot of photos, using a mattifying powder can help to ward off any unwanted shine.
All ready to go? Great—now, it's time to explore your New Year's makeup looks.
#1 Completely Classic
Nothing says classic and polished like a classic red lip. Classic chic is a look that requires a minimal amount of products. Just grab your go-to cream foundation, liquid eyeliner, and lash-lengthening mascara. Then add a bold red lipstick to dazzle the crowd.
If you want to take it a step further without overpowering your bold lip look, try adding one of these subtly amplifying twists to your routine:
#2 Simply Shining
If the end of the year has you glowing or you're simply thrilled to move on to the next, this look is the way to go. After rubbing in your foundation, start by applying a glittery rose gold or copper-colored eyeshadow. Complete your shadow look with a winged liner, pink liquid lipstick, and mascara.
To top it off, dust your cheekbones, cupid's bow, and the bridge of your nose with a shimmery warm-toned highlighter. This look is sure to show that 2022 will be your year to shine.
#3 Clean
If all you want is to be a better, more natural you after New Year's, try a makeup look that's just that. Flaunt your natural features with confidence with the following tips:
Apply natural tones – Stay close to colors that match your natural complexion, such as nude shadow, natural blush, and lip tones.
Add highlights – Amplify your natural face structure by applying subtle highlights to your cheekbones and contours to your cheeks and temples. Make sure to blend it all in well.
Use the right brush – Using a soft, rounded powder brush, apply a medium blush across your cheekbones, blending it out for a natural flush.
Make your eyes pop – Depending on your skin tone, use a medium or dark brown to define the crease of your lids and add a bit of smokey eye effect to the outer corner. Finish this classic smokey eye makeup look with a soft, blended eyeliner and mascara for an extra bit of polish.
If you're looking for simple looks that'll brighten you up and stay put through all the festivities, make Honest®'s 5-Minute Face Kit or No Makeup Makeup Kit your go-tos for effortless style.
#4 Glitz and Glam
Going glam is all about the glitter. Like a classic red lip, the beauty of this look is that it's an easy way to turn your usual style into a stunning New Years' makeup look.
After you decide on a glitter color, all that's left is to choose where you're going to apply it and how much, as well as what types of makeup brushes you're going to use. For a subtler look, try a swipe of gold or silver liquid glitter eyeliner above or below your eyes. You can, of course, also go with an all-over eyeshadow glitter on the lid. And if you're feeling extra avant-garde, try a glittery lip gloss in an unusual shade.
Wherever you decide to apply your glitter makeup, let it shine by softening the rest of your face with warm, neutral reds and browns.
#5 With a Bang
Few New Year's makeup looks create memories as much as those that bring out the boldest and brightest in us. The key to this look is a bright color palette—find those that represent you (or who you want to become in the new year). Will yours be neon and glowing, or jewel-toned and effervescent?
Once you have that range, however, feel free to mix and match with colors that complement each other. For example, try a bright blue eyeshadow with a captivating Fuschia lip color. To add extra colors into the mix, try a pencil or liquid eyeliner in an equally bold shade like one of Honest®'s velvety smooth Vibeliners.
Invite your eyebrows to the party, too. Honest®'s Eyebrow Kit provides all the essentials to make your brows the stars of the night with extra depth and definition.
Toast to the Future with Honest®
When all is said and done, what's most important about your New Years' Eve makeup is that you feel confident, beautiful, and fully you. But what if you could also start off your New Year's resolutions with happier, healthier skin?
When you're ready to enter into the new year, Honest® has the beauty products you need to go forth and take on all that 2022 has to offer with a classic look that's honest to you.
Sources:
Maragos, N. (2019, November 1). HuffPost. What Does Makeup Primer Actually Do? And Do We Need It? https://www.huffpost.com/entry/makeup-primer-foundation_l_5d83dc52e4b070d468c99843
Rollings, M. (2016, August 16). Refinery29. I Tested 6 Setting Sprays To See If They Actually Do Anything.
https://www.refinery29.com/en-gb/makeup-primer-setting-spray
We aim to provide you with the most honest and credible information possible. This article was reviewed for accuracy by The Honest Team and was written based on trusted sources that are linked at the bottom of the article.
blog_review_statement