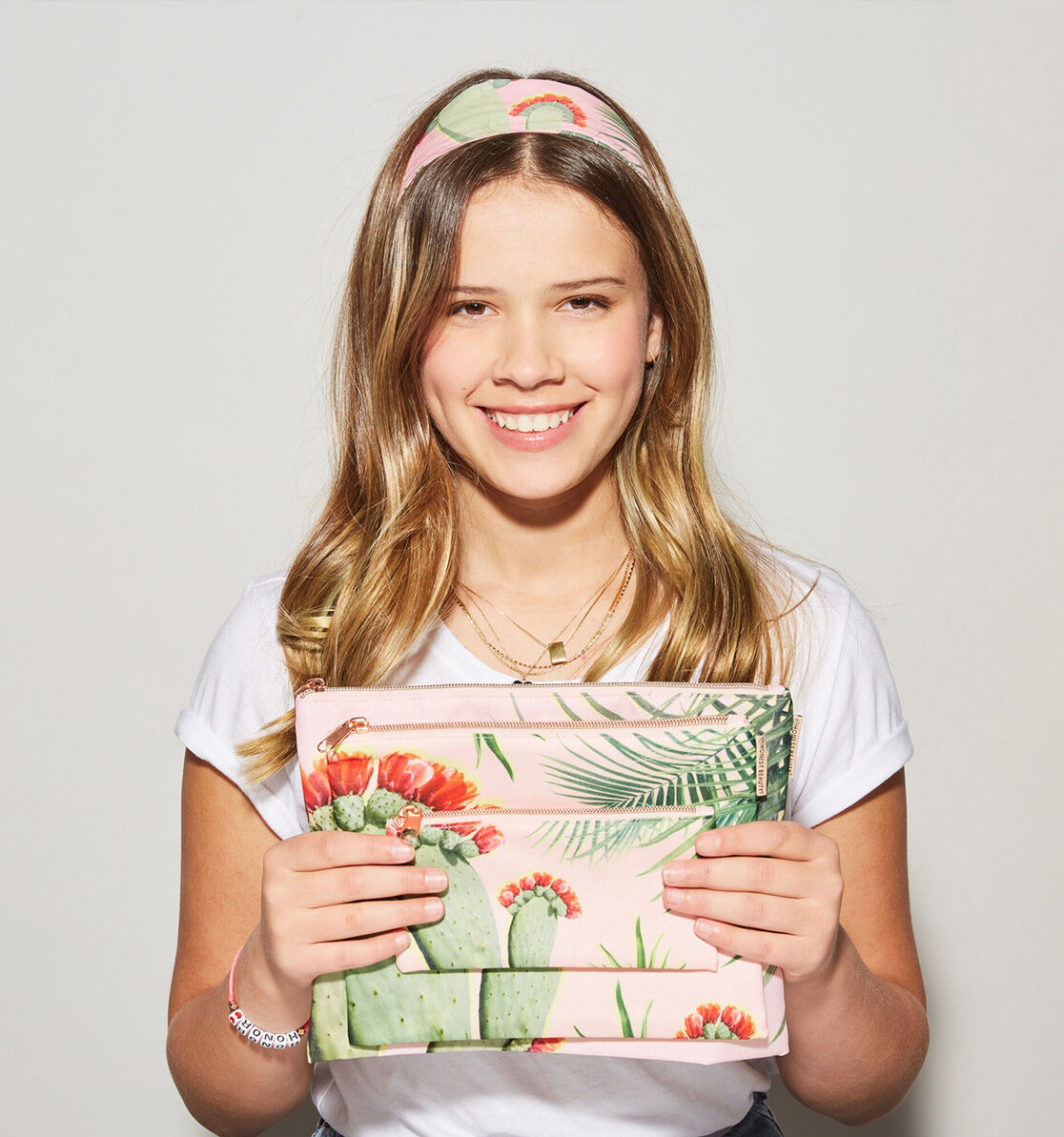 Buying gifts for your teens can be a big challenge as it's hard to figure out what will be of interest to them. If you know your teen is getting into makeup, you can build on this idea and incorporate some fun new products for them to try! Keep reading to discover some of our best stocking stuffers for teens new to the world of makeup.
1. Makeup Brushes
Any activity becomes so much easier when you've got the right tools. That goes for applying makeup as well. Investing in the right types of makeup brushes can make the process both easy and fun for your teenager.
However, finding which makeup brushes work best for them, touching on different parts of their face, can take some time and experimentation.
For a teen that's new to the makeup world, start by gifting them with classic, everyday use brushes, especially those intended for eye makeup. Starting with the classics will help them decide which brushes they like most. They make for the perfect gift for the upcoming holiday season!
2. Makeup Bag
There's something about cute, compact makeup pouches and bags that bring out the hoarder in us all. Gift your teen with a cute makeup bag as a stocking stuffer, and they can use it to carry their everyday use makeup around wherever they go. Throw in some additional makeup products for your teen to try out this holiday season!
3. Face Mask
The key to great makeup is having a good base for it. Your teen's skin is the canvas that they'll be putting the paint on, so to speak. That painting can only be as good as the canvas allows.
If your teenager is just getting into makeup, reinforce the concept of a good skincare routine and gift them with a pack of different face masks as a Christmas stocking stuffer idea. You can opt for sheet masks, gel masks, mask powders, as well as cream masks. You could even go with a nice mask gift set such as our Mask Moment Gift Kit, and they'll have all they need right out of the gate thanks to their stuffed Christmas stocking.
4. Lip Scrub & Balm
While on the topic of skincare, don't miss the opportunity to teach them how to care for their lips. If they want soft and plump lips, it helps to moisturize them with a nourishing lip balm to keep them hydrated.
Additionally, if your teen is keen on the matte liquid lipstick look, lip scrubs are a great way to help them ensure their lipstick doesn't look patchy or creased. Lip scrubs take off dead skin cells and create a smooth base for their lipstick.
5. Mascara
Who doesn't love mascara? Mascara can instantly give your teen's eyes a lift and make them appear wider and more defined. There are so many mascara formulations available now that make for the perfect gift for loved ones. There are curling and lifting ones, along with waterproof and nourishing varieties.
Even cooler, your teenager can even opt for colored mascaras, like pink, green, blue, or purple. The fun colors can add to the excitement of stocking stuffers for teens and allow them to experiment with different colors while finding their style. Of course, basic black mascara with a good lash primer is a great starting point for teens too, especially if they prefer a more natural look.
6. Makeup Removing Cloths
With all that new makeup, removing it safely is a crucial step in maintaining the health of your teen's skin. Though they may be able to get away with not keeping to a regular skincare routine for a while, eventually, it will catch up to them.
The time is now to guide them in forming the right skin care habits. For teens looking for a convenient solution, makeup remover wipes offer a quick and easy way to clean their face and remove their makeup safely, teaching them good habits while also being convenient and easy to use.
7. Brow Kit
Brows play a huge role in face makeup. They frame your teen's face and bring definition to their eyes. However, brow trends change almost as frequently as clothing trends! The current fad is natural-looking, clean brows, but whatever their personal taste, the perfect Brow Kit makes for a great stocking stuffer for teen girls.
8. Lip and Cheek Tint
Multi-purpose tints are all the rage these days. Mostly available in various shades of pinks and reds, these Creme Cheek and Lip Color tints can be used to infuse color to both the cheeks and the lips, and can sometimes even be used on the eyes.
Lip and cheek tints offer a more natural finish, great for 'no-makeup' makeup looks. For teens in school, these can be a great stocking stuffer suitable for everyday use that's easy to use.
9. Basic Eyeshadow Palette
Last but not least, a basic eyeshadow palette is a wonderful stocking stuffer for someone just getting into makeup. A basic palette often contains neutral shades like grays, browns, and black.
Some palettes may contain a shimmer or two. A larger palette might also include shades of pink in it. With these basic colors, your teen can create a lot of different makeup looks varying from a smokey eye makeup look to a variety of holiday makeup looks.
There are lots of gifts that make great stocking stuffers for teens. However, so many teens just need a little encouragement as they experiment with new things. So whatever gifts you choose, choose them with love, and you can't go wrong this Christmas!
Sources:
Holtz, J. (2021, November 9). 25 Stocking Filler Ideas for Teenage Girls. MyKidsTime. https://www.mykidstime.com/for-parents/25-stocking-filler-ideas-for-teenage-girls/
Reynolds, N. (2019, November 8). 50 Cool Stocking Stuffers for Teen Girls 2021. Raising Teens Today. https://raisingteenstoday.com/best-stocking-stuffer-ideas-for-teen-girls/
Sowerbutts, K. (2021, June 17). The Best Stocking Fillers For Under £20. Beauty Bay Edited. https://www.beautybay.com/edited/stocking-fillers-2020/
We aim to provide you with the most honest and credible information possible. This article was reviewed for accuracy by The Honest Team and was written based on trusted sources that are linked at the bottom of the article.
blog_review_statement