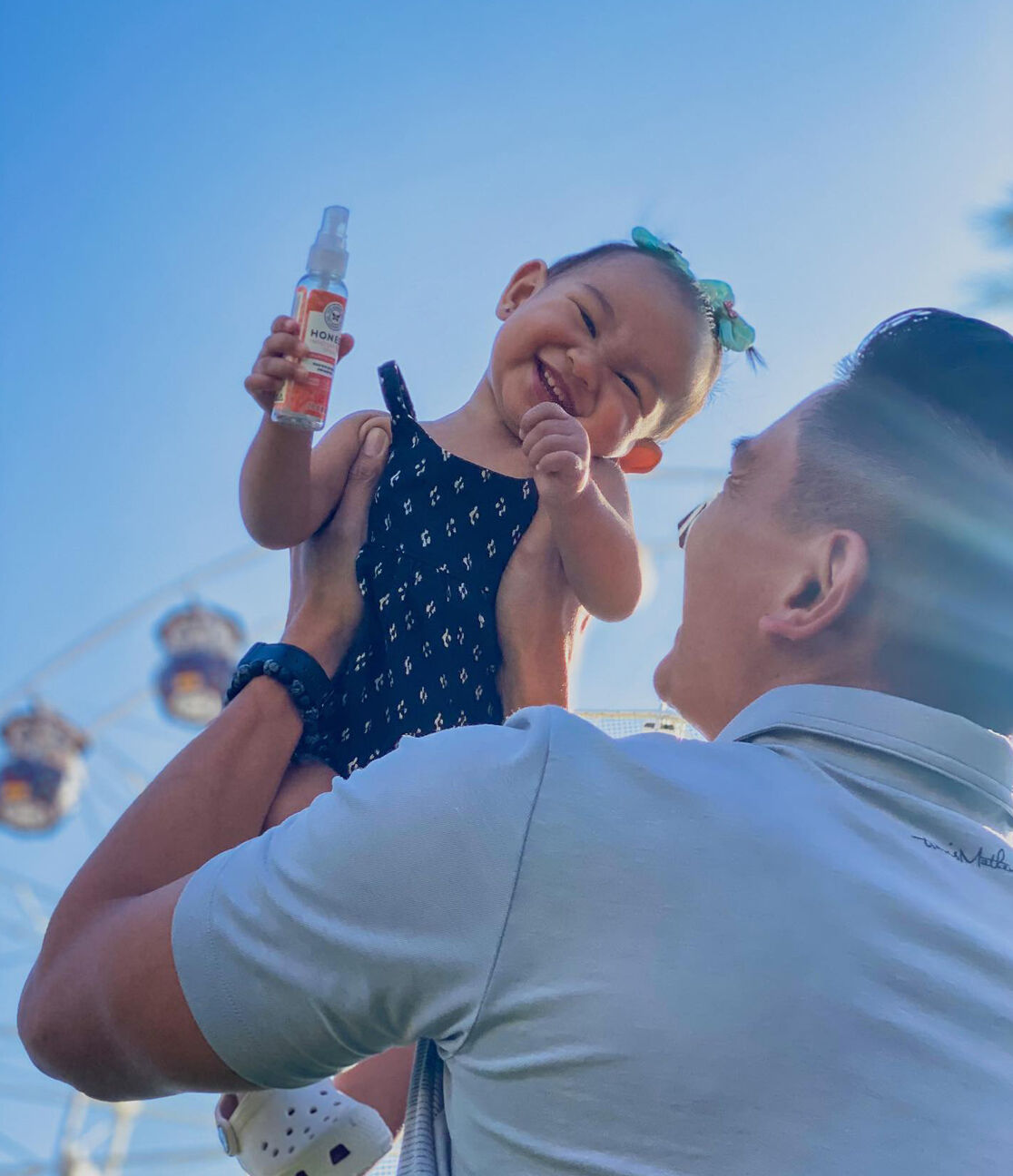 Image by @celinebrielle_
Our Top 14 Family-Friendly Spring Break Destinations
Between college party zones and quiet adult resorts, it can be tricky to find the best spring break destination for families. That's why we've assembled the top places for parents and kids alike to enjoy their springtime vacation.
From joyous theme parks to chill beaches, there's a spring break for families of all kinds (even Covid-safe ones). Kick off the pre-vacation excitement and explore our top picks when it comes to spring break destinations for families.
Beachy Getaways
For many families, spring break means shaking off the winter blues. What better way to do that than soaking up the sun on a beach?
From islands to coastal cities, there are countless beach destinations that'll please mom and the kids. Check out these oceanside spots for some breezy family spring break ideas.
Caribbean & Islands
Island vacations don't have to break the bank. With an all-inclusive resort or smart planning, you can get a taste of island life for a pretty sweet deal on spring break. Not to mention, kids will be fascinated by the exotic surroundings and endless oceanside activities—like snorkeling, fishing, hiking, and more—at these family-friendly tropical destinations:
Punta Cana, Dominican Republic – Located on the Dominican Republic's eastern shores, Punta Cana is known for its 30 miles of gorgeous white-sand beaches. This tropical paradise is the second-most visited destination in Latin America, but the crowds are worth the trip. With dozens of family-friendly resorts, Punta Cana offers activities to please any child, from swimming with dolphins to splashing around in wave pools.
Rio Grande, Puerto Rico – Rio Grande offers a secluded, yet never boring Caribbean beach vacation. Coco Beach, the city's primary beach, is exclusive to hotels and residents, so there's plenty of Covid-conscious space for kids to play. There are also plenty of attractions nearby to explore, like Indio Cave and El Yunque rainforest.
Maui, Hawaii – Of all the Hawaii islands, Maui has the most to offer families. Kids can zoom on zip lines, snorkel with sea creatures, watch hula dancers, and run (or even surf) along beautiful beaches like Wailea or Kaanapali. The weather is perfect from April to May, hovering around the high 70s, so when it comes to packing toiletries, don't forget to load up on sunscreen or a moisturizer with SPF to protect you and your family from the sun's UV rays.
Florida
There's a reason why more than half of the 21 most popular spring break destinations in America can be found in Florida—it's sunny, affordable, and family-friendly.
There's no getting around that Florida can get a little crowded during spring break. However, you can still find some private pockets along its 189 beaches. While you may still want to stock up on hand sanitizing kits and reusable face masks, consider soaking up the sun in locales that lend themselves to easier social distancing, like:
St. Augustine
Crystal River
Panama City
Sanibel Island
East & West Coasts
You don't have to travel too far south for a beach vacation. From east to west, the country's coastlines offer some pretty amazing shoreside getaways for families.
Why go coastal? First, the weather is more likely to stay mild and breezy (no sweltering humidity to kill the fun). Second, coastal beach destinations are relaxing for parents, while still offering the beachy activities that kids love. Check out our top picks for coastal spring break destinations:
Myrtle Beach (SC) – Colorful, cheerful, and charming, Myrtle Beach is a longtime go-to spring break destination. Together, families can explore the arcade-packed boardwalk, play mini-golf, ride the Skywheel Ferris Wheel, relax on white-sand beaches, and indulge in the local Carolina cuisine.
Ocean City (MD) – This is your classic fun-on-a-budget beach destination. Ocean City has 10 miles of free beaches, with plenty of affordable resorts and hotels nearby. Even at low prices, kids still get fun attractions like a boardwalk, amusement park rides, mini-golf, and park trails.
San Diego (CA) – Like a 2-for-1 vacation, San Diego offers city time and beach time. The city's coastline stretches over 70 miles, touching on kid-friendly Mission Beach, Pacific Beach, and Coronado Beach. Once your kids are all swum out, they'll love noshing on delicious South Californian cuisines or running through the city's many beautiful parks and zoos. Make sure to bring a tinted sunscreen to protect your skin during all these activities throughout the day.
Park Adventures
Do your kids have boundless energy? Are you looking for the best spring break destination that offers plenty of secluded outdoor space? In either situation, consider taking your spring break to the country's gorgeous parks.
National and state parks are a treasure trove of adventure. Kids and parents can enjoy hiking, rock climbing, spelunking, swimming, and guided tours. Even better, park vacations can easily become road trips for even more views and adventure.
Start with these family-friendly spring break spots for your outdoorsy clan:
Yosemite National Park (CA)
There's one word for Yosemite National Park—breathtaking. This Californian expanse, filled with granite cliffs and wildflowers, is a favorite destination for rock climbers, photographers, and explorers alike. Luckily, there are also plenty of kid-friendly paths that showcase the park's beauty (there's even a kids program for Junior Rangers and Little Cubs).
Open year-round, spring is a gorgeous time to see Yosemite's most lush growths. If there's late snow, you can even ski! Kids of all ages will love Yosemite favorites, like:
El Cap
Tuolumne Meadows
Merced River
Mariposa Grove
Glacier Point
Zion National Park (UT)
Zion Park may be popular, but it's worth the hype. Filled with Utah's alienesque craters, Zion provides an enjoyable escape for every type of family.
Laidback groups will love cruising along the Canyon Scenic Drive or warming up in the natural Emerald Pools, while more adventurous families might like braving the 16-mile Narrows—a watery gorge along the Virgin River.
Texas Hill Country (TX)
Texas Hill Country is less of a park and more of a sprawling, fascinating region in South-Central Texas. While less popular than national names, this state park area deserves a spot at the top of your family travel list.
Covering over 31,000 square miles of stony caves and hills, Texas Hill Country is perfect for road trippers and explorers. If your family loves to roam, carve a path along kid-friendly destinations like:
Enchanted Rock
Garner State Park
Austin Zoo
Blue Hole Regional Park
Hamilton Pool Natural Reserve
Everglades National Park (FL)
When most people hear the term "national park," they think of canyons and forests. But the Everglades of Florida National Park combine the best of a beach vacation with national park adventure to create a truly unique spring break destination.
Filled with swampy waterways, tropical plants, and exotic animals (yes, we're talking alligators), kids will love the Everglades' unique ecosystem. Not to mention, there's plenty to do outside of the park's swamps. Families can go on airboat tours, hike the Mahogany Trail, or explore the Miccosukee Cultural Center.
City Explorations
While New York and Los Angeles are the big names, America is full of amazing cities that offer unique pockets of architecture, food, and community. From coast to coast, give your kids a taste of culture this spring with these top urban vacations:
Washington D.C.
Beautiful, historic, and sneakily educational, Washington D.C. is an underrated family trip destination.
You can always hit up favorites like the White House and the Washington Monument. However, there are plenty more historical delights for kids in the nation's capital, especially during spring. Put these top spots on your D.C. checklist:
National Cherry Blossom Festival
Smithsonian Museum & Zoo
Georgetown Waterfront Park
International Spy Museum
Washington Youth Garden
Las Vegas
Las Vegas isn't just "Disney World for Adults". Over the past few decades, Las Vegas has evolved into a family destination. From museums to circuses, there's enough kid-friendly entertainment here to fill weeks on the calendar.
Skip the blackjack table and hit up these stops both on and off the main Strip:
Circus Circus Hotel Resort – A family-friendly paradise, Circus Circus was built for kids in mind. During the day, stop by the indoor Adventuredome theme park for thrilling rides, mini-golf, and laser tag. At night, head to the shows for incredible circus acts and acrobatics. It's a no-boredom zone for children of any age.
Shark Reef Aquarium – Tucked in the Mandalay Bay hotel, this fascinating aquarium offers 360-degree views of live sharks. You can even pet stingrays, baby sharks, and crabs in their shallow Touch Pool.
Discovery Museum – Have a budding scientist on hand? Head over to the Discovery Children's Museum. Interactive exhibits, like a 70-foot tower and the build-your-own-village EcoCity, make this destination an all-day adventure.
Orlando
Orlando can be thought of as a codeword for another kind of destination—theme parks. No matter their age, you can bet your kids will love the thrill of riding roller coasters, eating yummy food, and meeting their favorite fictional characters.
Luckily, Orlando has over a dozen theme parks your family can explore. Not sure where to start? Put these Orlando theme parks at the top of your spring break list:
Disney World (Magic Kingdom, Animal Kingdom, EPCOT)
Universal Studios
LEGOLAND
Seaworld
Maintain Safe & Simple Beauty on the Road with Honest®
From the beaches of Hawaii to the museums of Washington D.C., there's a spring break destination to fit every family's preferences and needs—including social distancing needs. Once you decide on your ideal vacation spot, let Honest® help you with the next step: packing. Whether you are packing a diaper bag full of baby essentials or a convertible backpack tote full of snacks, sunscreen, and hand sanitizing wipes for your kiddos, we can help make sure you are well equipped with all of the best travel necessities before you go exploring.
As a parent, you know that a well-packed bag can make the difference between a hectic vacation and an easy-breezy one. And at Honest®, we know that too. That's why we've designed diaper bags and backpacks, skincare essentials, and sun protection that will help keep you and your family organized, prepared, and protected on the road.
With products that boast zero parabens, phthalates, or harsh chemicals, Honest® is your ultimate spring break companion.

Sources:
Río Grande. Discover Puerto Rico. (n.d.). Retrieved March 14, 2022, from https://www.discoverpuertorico.com/regions/rio-grande
GoDominicanRepublic. (2021, May 3). Punta Cana. GoDominicanRepublic.com. Retrieved March 14, 2022, from https://www.godominicanrepublic.com/punta-cana/
VLB, T. (2018, February 5). The seven regions of Texas: Hill country. Medium. Retrieved March 14, 2022, from https://medium.com/texas-veterans-blog/the-seven-regions-of-texas-hill-country-9925373bfbb
Guide to san diego county beaches. Complete Guide to the Beaches in San Diego County inc. Phone Numbers. (n.d.). Retrieved March 14, 2022, from https://www.sandiego.org/articles/beaches/san-diego-county-beaches.aspx
Map of every Florida Beach. Science Trends. (2020, March 3). Retrieved March 14, 2022, from https://sciencetrends.com/map-of-every-florida-beach/
Rock, T. (2020, February 14). The most popular spring break destinations in America. The Daily Meal. Retrieved March 14, 2022, from https://www.thedailymeal.com/travel/best-spring-break-destinations-in-america-gallery
Best hotels in Zion National Park ... - travel.usnews.com. (n.d.). Retrieved March 14, 2022, from https://travel.usnews.com/Hotels/Zion_National_Park_UT/n-zion-national-park-south-entrance/
Best times to visit maui | U.S. news travel. (n.d.). Retrieved March 14, 2022, from https://travel.usnews.com/Maui_HI/When_To_Visit/
Yosemite Conservancy 2020 Projects: Junior ranger programs. Yosemite Conservancy. (2021, February 3). Retrieved March 14, 2022, from https://yosemite.org/projects/junior-ranger-programs/
We aim to provide you with the most honest and credible information possible. This article was reviewed for accuracy by The Honest Team and was written based on trusted sources that are linked at the bottom of the article.
blog_review_statement